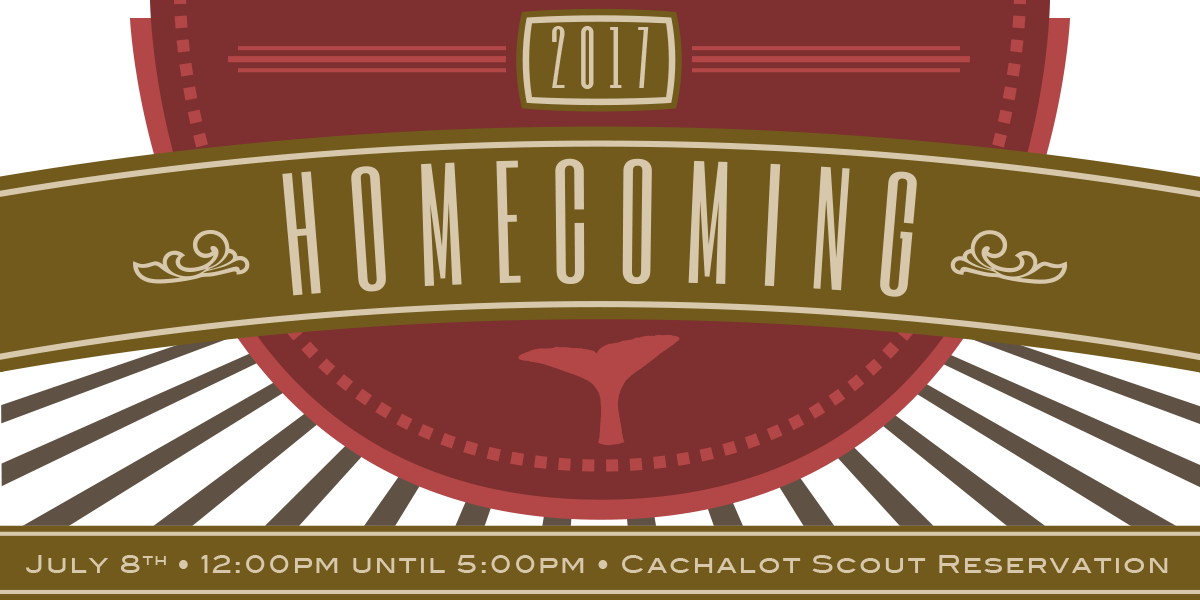 Honoring Our Newest Camp Cachalot Wall of Fame Honoree
Homecoming will take place on Saturday, July 8th, 2017, from noon until 5:00pm. We'll begin with a cookout down by the pine grove across from Tom Cullen Field. As usual, you'll have some time to catch up with old friends and swap some camp stories over lunch. At around 1:00pm, after you've had a chance to eat, we'll have a quick update on what's been going on with the Association and some plans for the future. At 1:30pm, we'll move over to the Bill Joyce Memorial Flag Field for this year's Wall of Fame Induction Ceremony, where we'll welcome this year's honoree. Once the program for the day has concluded, Cachalot will remain open until 5:00pm, to give you more time to catch up with other alums, get in a little fishing, check out the newly-completed renovation of the dining hall, or pay a visit to one of your favorite spots in camp.
About the Wall of Fame
The Camp Cachalot Wall of Fame is modeled after other "Hall of Fame"-type institutions, and is intended to be a lasting memorial to the people and organizations that have been instrumental in the success of Cachalot and the experiences of those who have attended Cachalot over the years. Nominees must have had their first involvement with Cachalot at least 20 years prior to their nomination, and are subject to a strict vetting process that concludes with voting by the members of the Alumni Association. More complete information on the Wall of Fame, including the nomination process and our plans for a permanent memorial, can be found here. A roster of past inductees will always be available on this web site.
Our 2017 Honoree
Our eighth class of Wall of Fame inductees has a sole member, most well-known as the long time shooting sports instructor during summer camp at Camp Cachalot.
---

Robert "Bob" Richard is most well-known to Scouts and Scouters as a summer camp fixture, having served 14 years as the rifle range instructor, Shooting Sports and Field Sports Director, a role for which he happily volunteered, never taking a paycheck for his services. In that role he was responsible for the first nationally inspected and approved paint ball range. But that's only a part of Bob's contributions to Cachalot.
He paid his first visit to camp in 1996 as adult supervision for his step son's troop, camping in the 21 Club. In the years since, he has the aforementioned 14 years on the rifle range during Boy Scout summer camp, 7 years on the Cub Scout Day Camp staff as the range safety officer, many years as a Campmaster, and has helped staff various district and council events out at camp, including Powder Horn, Klondike Derbies, and many camporees, even chairing the 2005 Fall Camporee. He was also active in other areas of Scouting, including service on the commissioner staff, the Popcorn committee, as the advancement chair for Troop 27 in Fall River, and as an Elangomat for the Order of the Arrow. He is the recipient of numerous Scouting awards, including the Bronze Pelican, Wood Badge, the Vigil honor, and the Silver Beaver.
Bob also has a long history of service projects at Cachalot. He would head to camp for the summer in early June each year, to assist the Ranger in getting camp ready for summer camp in advance of the rest of the staff. Projects included new back stops for the rifle range; demolition work for the renovation of Prescott Dining Hall, then helping with screen installation, concrete work, and exterior painting for that renovation; urethaning the interior of the Trading Post; helping with alterations of the Handicraft area at Noquochoke Lodge including the construction of a new gun locker; prefab work on the wash house at Site 3; staining and siding work at the 21 Club; improvements to the Duplex; and drainage and septic work. When not working directly with the Ranger, Bob would make repairs to tents, platforms, cradles, trim trees, chip wood, and keep the grass mowed (not to mention keeping the mower, the string trimmers, and the golf carts running, including donating a riding mower to camp.) He was at camp every other Thursday for many years, helping the Ranger keep things running.
Our Ranger goes so far as to say "He played some small part in almost every major project but his major help to me was getting so many of the annual things done so I could focus on the major stuff. He really did so much and I was spoiled to have him around. He loved the camp and thought of it as his second home."
For all of these contributions to Camp's well-being, you and your fellow Association members saw fit to elevate him to the Wall of Fame.
More Details
Homecoming 2017 is a free event for members and non-members alike. Lunch is optional, with a suggested donation of $5 to help us defray the cost.
The Wall of Fame dedication and induction ceremony will begin at 1:30pm, in the Bill Joyce Memorial Flag Field. While we'll have some seating set aside for our honoree and his family, if you'd like to be able to sit down during the ceremony we strongly suggest bringing along a camp chair for yourself. We expect the ceremony to take about an hour. Camp will remain open after the induction ceremony until 5:00pm. If you'd like to have a look around but don't quite remember the way, members of the Alumni Association will be on-hand to help you find your old haunts.
As always, our History Committee will be on-hand to scan your photos and slides or photograph any memorabilia that you'd like to show off. Bring along your items to be scanned, or bring your digital pictures in almost any format. Contact curator@cachalotalumni.org if you have questions about this. If you have a large number of photos or slides, we may not be able to handle them at the event but would still like to make arrangements to capture them, so please contact us at that email in that case.
Registration Details
Even though this is a free event, we'd still appreciate it if you'd let us know you're coming, especially if you plan on joining us for lunch. If you're a Facebook® user, and would like the event to show up in your events list there, you can RSVP via the event's page on Facebook®, otherwise you can:
Click here to register online right now!
There's no need to register via both methods. If you do register on Facebook, please be sure to let us know if you'll be dining with us (a comment on the Event's wall is fine.)
Additional Information
If you have questions that aren't answered here, please drop us an email message at homecoming@cachalotalumni.org. The Narragansett Council office may also be able to answer some questions via telephone at (401) 351-8700.
We hope you'll be able to join us and help us recognize this years Wall of Fame honorees and their efforts to make "the place we know so well" what it is today!
See you in July!
Web site design and maintenance by
Dennis J. Wilkinson, II.
All content copyright ©2004- by the Camp Cachalot Alumni Association, except where otherwise noted.
This page was last modified on Thu Jun 29th 2017.
---
Site look odd? Your browser may not be up to date. See the note on the main page.